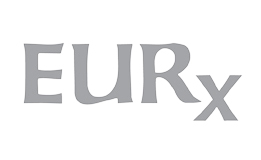 SG 1-Step RT-qPCR Master Mix
Sensitive, high precision one step RT-qPCR master mix for quantitative real time qPCR. Intercalating dye / SybrGreen. Enables direct usage of RNA as template. No ROX.
Detailed Product Description
English Version
Deutsche Version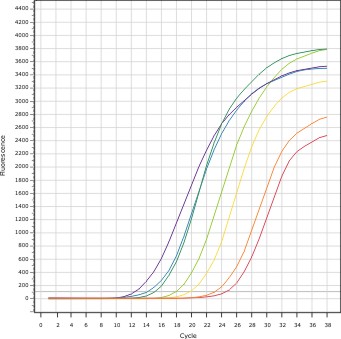 Figure 1:
OneStep RT-qPCR using the dART 1-Step RT-qPCR Kit. Total RNA from pig liver was used as starting material for quantitative amplification of seven representative housekeeping genes with different transcription abundances. Analyses were performed in quadruplicates. For simplification, only one amplification curve per target gene is pictured. Ct values for each target gene are given as mean value ± standard deviation calculated from all four samples, respectively. To verify the specificity of the reaction, all RT-qPCR products were checked on an agarose gel. The amplification of one single, clean, smear-free and well-formed band with sharp, defined boundaries was confirmed in all cases. One typical amplification curve for each target gene is displayed below. From left to right:


Ct 12.6 ± 0.2 - Actin
Ct 14.2 ± 0.5 - GAPDH
Ct 15.3 ± 0.3 - CD 48
Ct 18.0 ± 0.1 - Tubulin
Ct 19.8 ± 0.1 - Arginase I
Ct 23.1 ± 0.1 - IL3
Ct 24.6 ± 0.2 - Cyt 450
SG 1-Step RT-qPCR Master Mix - Package Contents
Enzyme Master Mix with

a reverse transcriptase, dedicated and optimized for RT-qPCR,
and SYBR Green I dye,

qRT-PCR Master Buffer (2x), a RT-qPCR reaction buffer with dNTPs
(dTTP is partially replaced with dUTP),
thermolabile Uracil-N-glycosylase (UNG), provided in a separate tube for optional application,
H2O, nuclease free.
Optionally supplied, if needed:
25 mM MgCl2 solution. If required, please request this component along with your order.
Related ProductsAdditional Resources

qPCR Master Mix Logsheet

RT Logsheet